Hiring Managing Director
---
Published on June 18, 2020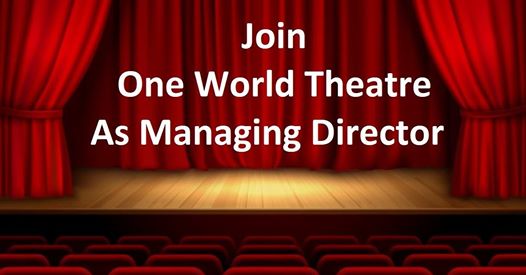 One World Theatre is offering the exciting opportunity for a Managing Director to join its creative team, based in Kathmandu, Nepal.
S/he will work alongside OWT Artistic Directors and commence part-time time employment in July 2020. Together, the Managing Director and Artistic Directors will work as co-partners to lead company members and guest artists, donors and the community in realizing the mission of One World Theatre as an intercultural, social justice theatre company.
POSITION AND RESPONSIBILITIES
OWT seeks a Managing Director with demonstrated leadership skills-- a dynamic leader with a passion for the arts and the impact of art on the lives of the community. The Managing Director will guide the development of a vision and strategy for the organization's long-term growth and will provide strong leadership for the board, staff, and the community.
The Managing Director and Artistic Directors are jointly charged with enabling OWT to realize its goals for artistic excellence, intercultural understanding, social justice, education, financial stability, fundraising, and audience engagement. Within this collaborative partnership, the Managing Director is responsible for rendering the Artistic Directors' vision into practicable initiatives that are financially sound and supported, and which galvanize its stakeholders and extended community behind it.
The Managing Director is responsible for the overall business, administrative, and operational management of the company. This includes aspects of fundraising, budgeting, financial management, human resources, information systems, institutionalizing tools and public relations.
RESPONSIBILITIES WOULD INCLUDE BUT ARE NOT LIMITED TO
With Artistic Directors and individual company directors, develop the season and identify potential funders
With the Artistic Directors and individual directors, facilitate the write of timely funding proposals with in-person follow-through
With Business Manager and the individual directors, create a production budget
Identify and secure rehearsal spaces and performing venues
Make special travel and accommodation arrangements for international or national guest artists
Ensure advance publicity and ticketing on social media of upcoming productions
Contract for the design and printing of posters, programs, and promotional and production videos
Supervise individual directors for on-going budget control
Supervise individual directors and stage manager for end of production reports and archives
Organize special events. e.g., press meets, fundraising receptions, opening/closing nights, special occasions related to productions, e.g., International Holocaust Remembrance Day, International Women's Day, IDAHOT etc..
Facilitate the development of a basic OWT Web page and keep it updated regularly, possibly with outside assistance
Facilitate the overall development and implementation of institutionalized management tools in a systematic and coherent manner.
Other tasks to be agreed upon according to skill set and interests

The Managing Director is an initial part-time employee, at least until theatre performances can be held again, which, depending on the situation, will hopefully be by end of November 2020, when it can become a full time position.
Salary will be provided but in line with OWT being a grass root theatre company and with the limited funding that One World Theatre currently faces. OWT is an equal opportunity employer.
APPLICATION PROCESS
To include:
- CV, containing at least two references and expected salary range
- Cover letter
To be submitted to theatreoneworld@gmail.com by the 23rd of June 2020 at the latest.