OWT meets the Kathmandu Mid-Town Rotary Club
---
Published on June 23, 2022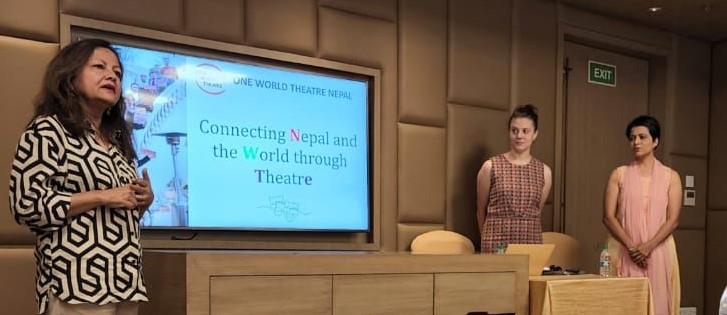 Sangeeta Thapa, Founding Director of Siddhartha Art Gallery and a new OWT Coreteam member, facilitated an invitation for OWT to present its work at the mid-town Rotary Club in Kathmandu. The presentation was done by Kavita Srinivasan and Rose Schwietz in front of about 23 people and everyone seemed enthusiastic and supportive.
Kavita: "At the very least, they all said they would come to our shows! Our show publicity could go to the rotary mailing list (thousands of people) as well as the Rotaract group (youth wing). We also pitched the idea of monthly patronage and possible partnership with Rotary for any production with a social cause they are interested in and a handful of people came at the end to sign up. One gentleman who shuttles between Ktm and NY said he is connected to both the theatre community in NY as well the Nepali community there, and said he would be happy to help us take our shows there."
Also, a guest Rotarian from Scotland, who was present at the Rotary meeting, later contacted OWT and requested to make the same OWT presentation to her Scottish Rotary Club, Galashiels.