Presence and Vulnerability through Clown Workshop
---
Published on March 13, 2022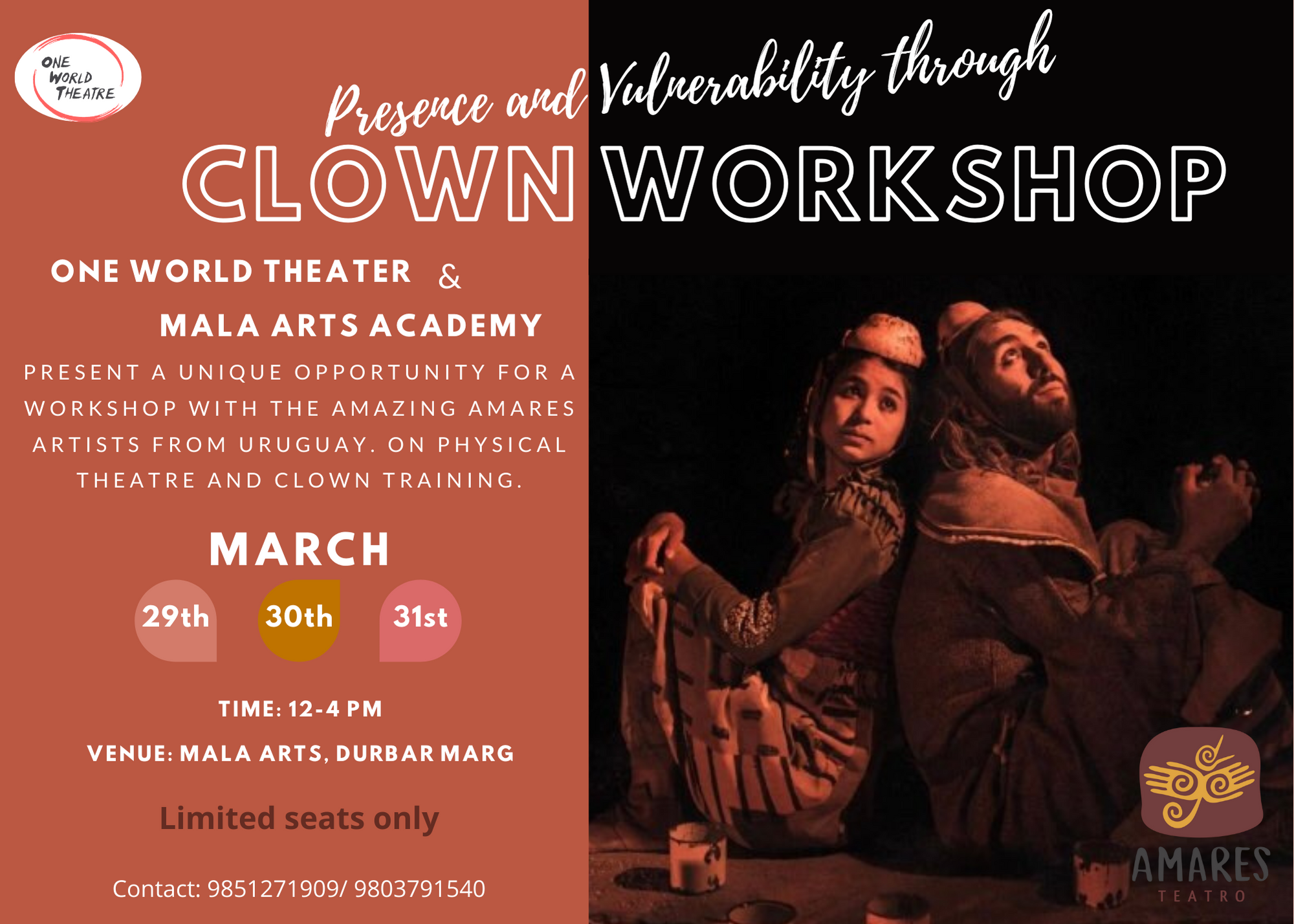 One World Theatre co-hosts a workshop with Mala Arts Academy to present a unique and thrilling opportunity to train with the talented artists of Amares theatre troupe from Uruguay: Presence and Vulnerability through Clown Workshop on 29, 30, 31 March from 12 to 4pm at Mala Arts Academy, Durbar Marg.
Andres Fagiolino and Betina Dominguez from Amares have a deep knowledge and training in physical theatre and clown work. They have traveled over 17 countries in the last 6 years working with artists and theatre groups to impart their training.
"It is very difficult to establish rules in the clown, since by nature the clowns are anarchists... they are the conscience of society, each culture has its clown. Everybody. As far as we can go, reaching the prehistoric man, there have always been shamans communicating the gods with the people. And the clowns were shamans, for getting involved with the transformation, and because the transformation is healing. In the clown concept of native cultures it is said that if you face all your facets at the same time you could simply laugh at the beauty of your own ridiculousness."
- Sue Morrison
By the end of the workshop, the participants are able to:
• Have a new vision about themselves
• Have acquired greater body and spatial awareness
• Know how to use your voice without forcing the vocal cords
• Know how to take care of their body, with special emphasis on their spine
• Accept themselves as an integral being
• Have tools to transform their daily reality
• Have experienced a new way of relating to their peers
OWT also collaborated with Kausi theatre, to use their hall to host a show performed by the Amares artists.
For more info: https://www.amaresclown.com/?lang=en
https://m.facebook.com/Amaressocialclown