Angels in America: Millennium Approaches
A play by Tony Kushner
---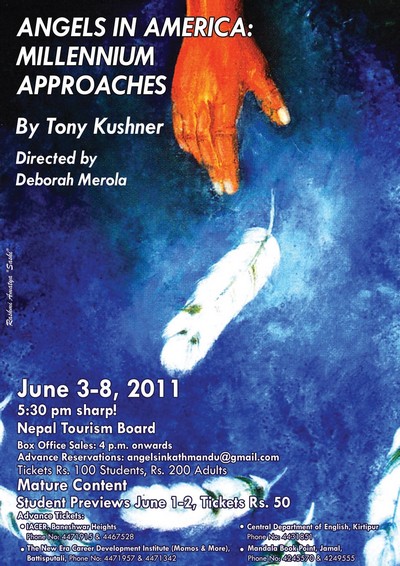 Angels in America, the Pulitzer Prize winning play written by Tony Kushner
Nepal premiere in English with two professional guest artists from America and Nepali professional, community, and college/university actors. Followed by animated audience talkbacks, included in the Fulbright Commission USES-Nepal 50th Anniversary Celebrations, with the U.S. Embassy in Nepal buying out a house.
The play was performed for the first time ever in Nepal, in English, with a mostly Nepali cast.
Angels in America is set in the 1980's when Ronald Reagon was President, and when AIDS/HIV was ravaging the gay community in the United States. It was at the time being performed on Broadway to sold-out audiences.
---
---