Desire Under the Elms
A play by Eugene O'Neill
---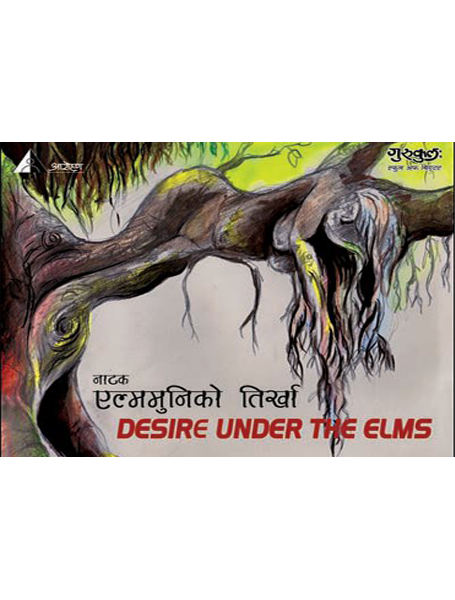 Done in Nepali by professional actors of the Aarohan-Gurukul Theatre, featuring a highly experimental staging, American costuming, and Nepali folk dance and song. Widely reviewed, extended to a six week run, and viewed by over 5,000 Nepali and international audience.
Desire Under the Elms is a 1924 play written by Eugene O'Neill. Like Mourning Becomes Electra, Desire Under the Elms signifies an attempt by O'Neill to adapt plot elements and themes of Greek tragedy to a rural New England setting. It was inspired by the myth of Phaedra,Hippolytus, and Theseus. A film version was produced in 1958, and there is an operatic setting by Edward Thomas.
Eugene Gladstone O'Neill (October 16, 1888 – November 27, 1953) was an American playwright and Nobel laureate in Literature. His poetically titled plays were among the first to introduce into American drama techniques of realism earlier associated with Russian playwright Anton Chekhov, Norwegian playwright Henrik Ibsen, and Swedish playwright August Strindberg. The drama Long Day's Journey Into Night is often numbered on the short list of being among the finest American plays in the 20th century, alongside Tennessee William's A Streetcar Named Desire and Arthur Miller's Death of a Salesman.
O'Neill's plays were among the first to include speeches in American vernacular and involve characters on the fringes of society. They struggle to maintain their hopes and aspirations, but ultimately slide into disillusionment and despair. Of his very few comedies, only one is well-known (Ah, Wilderness!). Nearly all of his other plays involve some degree of tragedy and personal pessimism.
---
Translation Bal Bahadur Thapa
CAST
Son- Eben: Prabin Khatiwada
Son- Simeon: Kamal Mani Nepal
Son- Pitter: Bipin Karki
Father- Ephraim Cabot: Rajkumar Pudasaini
Abbie Putnam: Sarawoti Chaudhary
Mother: Aruna Karki
Villagers: Bhola Raj Sapkota
Ramhari Dhakal: Sajan Thapa
Young Girl: Pramila Katuwal
Other Actors
Janaki Chaudhari
Rabindra Singh Baniya
Kalim Khan
Hum BC
Sajan Thapa
Production Team
Brochure Design Ruru Pokhrel
Marketing / Publicity Rabindra Singh Baniya, Suresh Chand
Set Design: Ramhari Dhakal
Set Construction: Hum BC
Costume Design: Sarita Giri
Props Design: Pashupati Rai
Light Design: Rajkumar Pudasaini
Light Operator: Ramhari Dhakal
Choreography: Pritica Begot
Asst. Director: Sarita Giri
---