Mero Deshko Itihas
A play by Bhupi Sherchan
---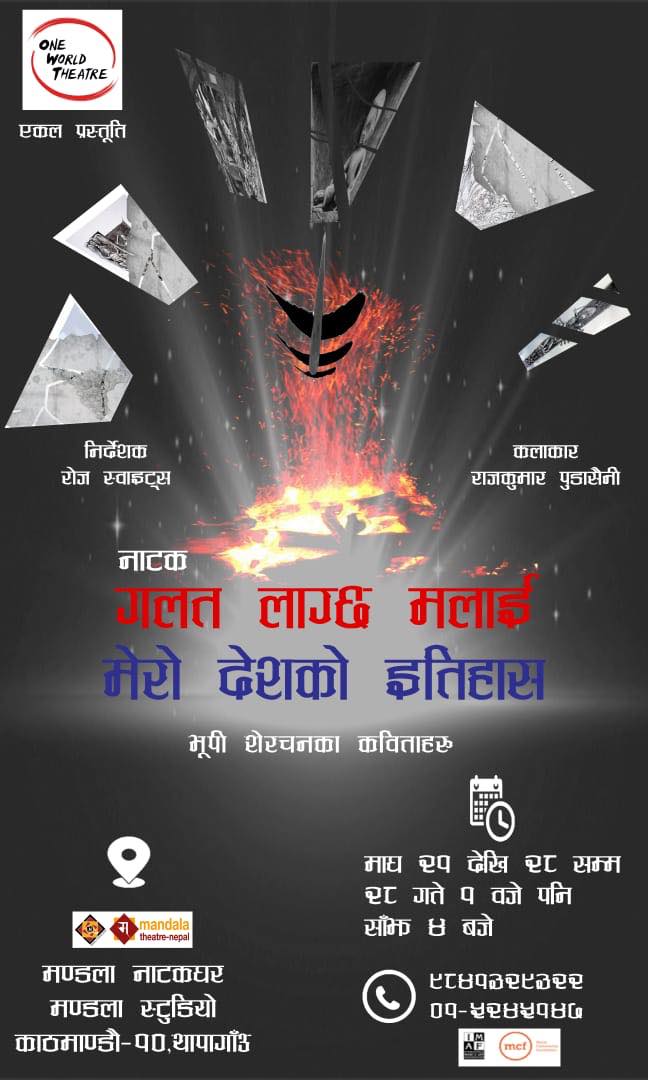 I Think My Country's History is a Lie
Galat Lagcha Malai Mero Deshko Itihas
When I pause for a few days
to look at these squares steeped in hunger,
these streets like withered flowers,
I think my country's history is a lie.
These gods, dug in all down the street,
these knowing men who are deaf and dumb,
these temples ravaged by earthquakes,
these leaning pinnacles,
these statues of great men at the crossroads:
when I see all these, ever present,
never changing, all alike,
then I think it is a lie,
the history of these men who share my table.
When I constantly see young Sitas in the streets, the alleys, the markets,
in my country and in foreign lands,
stripped bare like eucalyptus trees,
when I see countless Bhimsen Thapas, standing still and silent,
shedding the songs of their souls,
like kalki trees with their hands hanging down,
I really feel like mocking my blood.
I hear that Amarsingh extended the kingdom to Kangra,
I hear that Tenzing climbed Sagarmatha, I hear that the Buddha sowed the seeds of peace,
I hear that Arniko's art astounded the world;
I hear, but I do not believe it.
For when I pause for a few days
to look at these squares steeped in hunger,
these streets like withered flowers,
I know that this is the truth of my past,
and I think our history is a lie.
from Bhupi Sherchan, 1969
Bhupi Sherchan (Nepali: भूपेन्द्रमान शेरचन (1937-1990); was a Nepalese poet of Nepali language. He was born in Mustang district in Nepal. He went to Banaras College. He was awarded the Sajha Puraskar for his 1969 poem collection Ghumne Mech Mathi Andho Manche (Blind man on a Revolving Chair). Sherchan was the most successful poet to popularize free verse. He has analyzed humans and human life in different ways but his biggest contribution to Nepalese society is that he has tried to show the way to the new generation through his numerous poems. His Himalayan nationalism can be seen in his poem "Hami" ("Us"), where he claimed that Nepalese are brave, but foolish (because they are brave). Sherchan produced several odes to the martyrs of Nepal, including "Sahid Ko Samjhana," "Main Batti Ko Sikha," and "Ghantaghar"."Ghumne Mechmathi Andho Manchhe," or "Blind Man on a Revolving Chair," has undergone its 10th edition.
---
Directed by: Rose Schwietz
"This was a uniquely exciting challenge for me as a director, as it was my first time directing a solo show and my first time staging a poem. The poem itself is a harsh, beautiful critique of Kathmandu society - a critique that could easily be morphed to other urban communities around the world. It was particularly interesting to experiment with shaping the text and staging to fit into the strong production design choices Rajkumar had already developed."
Solo performance by: Rajkumar Pudaisani
Access the brochure here (in Nepali)
---