GROSS INDECENCY: THE THREE TRIALS OF OSCAR WILDE
A play by Moisés Kaufman
---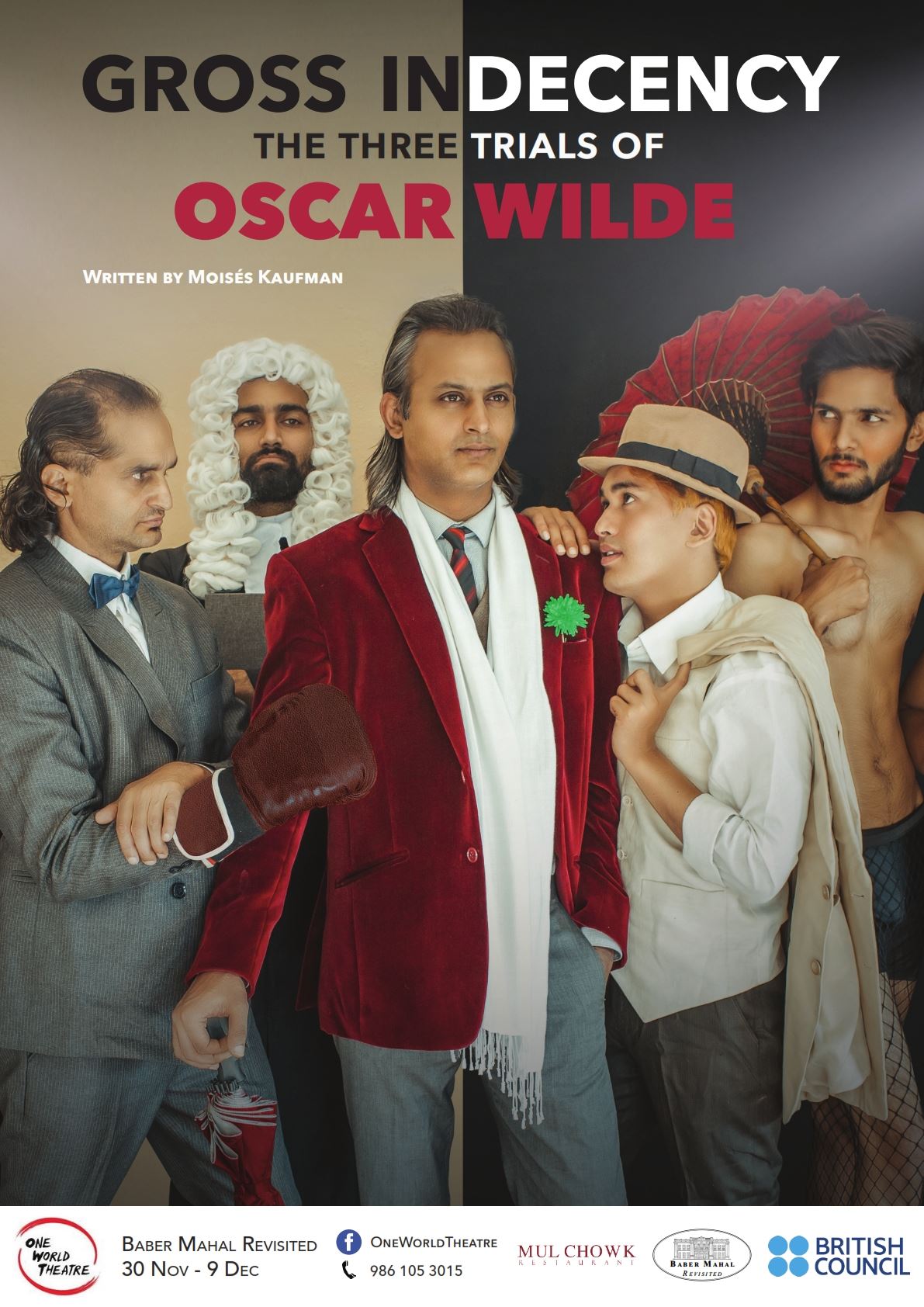 In a continuing commitment to LGBTIQ issues (and great literature), OWT presents a riveting courtroom drama that uses historic trial transcripts, personal correspondence, and interviews. A predominantly male ensemble tells of a great man of letters, author of The Importance of Being Earnest, suffering from the prejudices of the time and ultimately betrayed by his own wit.
After the very successful and well received production of the Laramie Project in March 2015 and in May 2017 The Laramie Project: Ten Years Later with LGBT voices and experiences from Nepal, One World Theatre produced in December 2018 the play Gross Indecency: The Three Trials of Oscar Wilde.
The One World Theatre production was done without external funding, not from international donors nor from companies, merely the private contributions gathered by Deborah Merola. This project provided an opportunity for audiences, students, journalists and policy makers to reflect and debate important social issues, like LGBTIQ rights, artistic freedom, sexual harassment and the role of the judiciary.
Outputs
In terms of audiences: total of 1.500 people through 15 performances of which 750 students: high school, college and university outreach with in-depth discussions.
In terms of media: at least 15 articles covering the play in printed and online media, reaching an estimated 180.000 people.
An online Facebook campaign for the production reaches 15.000 people, with trailers, reviews and quality pictures of the production
Outcome
Better understanding and change in attitude of audience members (measured by randomized sample questionnaires) and pre- and post-discussions with students and teachers;
Ripple effect through the raised awareness of journalists, policy makers, activists and teachers when they are dealing with issues of HIV, LGBT rights and hate crimes
---
Cast
Sushrut Acharya: OSCAR WILDE
Sandeep Shrestha: LORD ALFRED DOUGLAS
Rajkumar Pudasaini: QUEENSBERRY, LOCKWOOD, WILLIE (DRUNK), NARRATOR 8
Hemanta Chalise: Sir Edward CLARKE, OTHERS, NARRATOR 6
Sandesh Shakya: GILL
Utpal Jha: NARRATOR 1, EDWARD CARSON, GEORGE BERNARD SHAW, OTHERS
Surabhi Sapkota: NARRATOR 2, SPERANZA, MARY APPLEGATE, HOUSEKEEPER
Navin Neupane: NARRATOR 3, HARRIS, PARKER, FOREMEN OF THE JURY
Gaurav Bista: NARRATOR 4, JUDGE, WRIGHT, MAYOR, OTHERS
Alizé Biannic: QUEEN VICTORIA, PROSTITUTE, CONSTANCE WILDE, LANDLADY, ELLEN GRANT
Amrit Dahal: NARRATOR 5, WOOD, AUCTIONEER
Production team
Guest-Director – Bruno Deceukelier
Production Manager - Rajkumar Pudasaini
Managing Director – Alize Biannic
Costume Design – Surabhi
Lighting Design – Diwas Raja
Lighting Opps – Umesh Tamang
Stage Manager – Sandesh Shakya
Assistant Stage Manager – Navin Neupane
Sound and Music Design – Bruno Deceukelier
Sound and Music Opps – Ragendra Shrestha
Box Office – Chandra Thapa
Accounts – Amrit Dahal
Education Outreach – Sushrut Acharya
Volunteer: Sneha Nyachhyon
---