NEPALI AAMA
A play by Broughton Colburn
---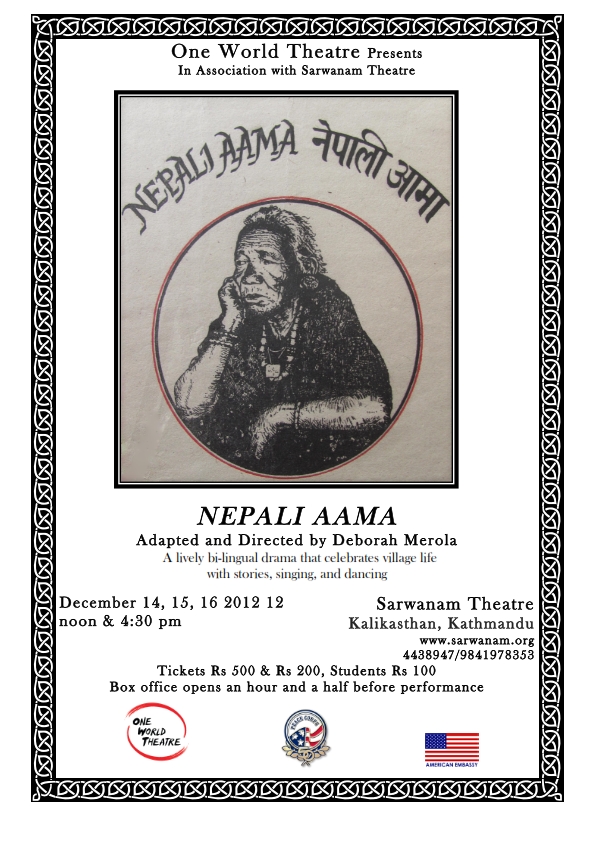 The Play Nepali Aama by Broughton Colburn was adapted for the stage by Deborah Merola, translated into Nepali by Balu Thapa, with Merola and Thapa creating the Nepali-English bilingual script. The play, structured as a "day in the life" of Vishnu Maya Gurung, naturally introduces village characters, practices, customs. and beliefs still encountered today. This septuagenarian's reminiscences, often performed as flashbacks by a young Vishnu Maya, go back 100 years to her time as a girl in her natal village, a young married woman in India. and then returning home. Storytelling, Lord Shiva performed by a classical Indian dancer, and Nepali village music, songs and dances add to the liveliness of the production that hopefully reminds foreign guests and even Kathmandu residents of the humor, good sense, wisdom and dignity of villagers.
Director's Note
My planned stage adaptation of Nepali Aama motivated my first trip to Nepal in 1990, when I had an opportunity to travel to Vishnu Maya's village in the foothills of the Himal. Joined by a student videographer and a Gurung staff member from World College West. The creative group spent several days in her village, recording traditional songs and dances. Nepali Aama was staged out-of-doors on the WCW campus and at the Himalayan Fair in Berkeley, California. While Nepali Aama performed in Nepal has been a dream of mine ever since that first visit, I never dreamed that we would have the good fortune to help celebrate the 50th Anniversary of the Peace Corps in Nepal, with the support of Cultural Affairs of the US Embassy in Nepal. It will be a special honor to perform the day of the swearing-in of the 20 new Peace Corp volunteers before they travel to villages to meet their own future Nepali Aamas.

Adapted and Directed by Deborah Merola, Reprised by Rajkumar Pudasaini
A Nepali language reprise of the celebrated bilingual production that performed at the 50th Anniversary of the Peace Corps in Nepal. The drama was based on Vishnu Maya Gurung's humorous and wise comments and Coburn's documentary black and white photographs that made Nepali Aama: Life Lessons of a Himalayan Woman an instant classic. The OWT troupe rehearsed and performed in Nepali Aama's own village and integrated locals into the dramatic action and music and dance.
---
Mithila Sharma Desh Bhatta Khanal Mistree Thapa Aruna Karki Rajkumar Pudasaini Pashupati Rai Saraswati Chaudhary Samuna K.C. Pramila Katuwal Puskar Gurung Prabin Khatiwada Bipin Karki Ruru Manisha Oli Samjhana Oli Anish Oli
Arjun B.C. Hum B.C. D.B. Kaliz Dev Lama Aaiman Ghlan Sunaina Panthy
---