The Ride Across Lake Constance
A play by Peter Handke
---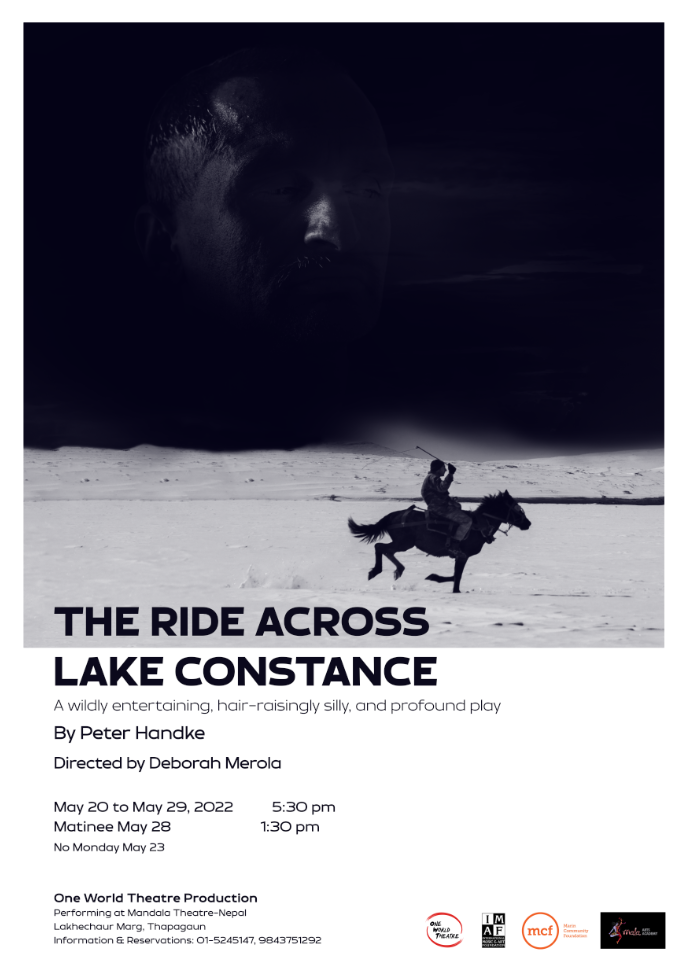 This highly experimental play presents a group of aristocrats who inhabit a semi-deserted mansion and begin to improvise scenarios, ranging from ominous to silly, about the meaning of life. The production features Nepali film and stage luminaries appropriate for a play modeled on leading German actors of the time.
The Ride Across Lake Constance keeps the One World Theatre commitment to contemporary dramatic texts, outstanding acting, and social justice issues. Here, the serious explorations of patriarchy, ownership and servitude—and the human need to make sense of the world - are all but buried in a hysterical avalanche of terror and nonsense, something like our lives during the Pandemic. The production features Rajkumar Pudasaini and Aashant Sharma, a great comic duo reminiscent of the bums in Waiting for Godot.
Performed at Mandala Theatre from 20 till 29 May, 2022. Photos of the production can be viewed here.
NOTE FROM THE DIRECTOR
Artists often have a project in mind for many years before it comes to fruition, so it is always a source of joy when that happens, as now, with Peter Handke's The Ride Across Lake Constance.
I first explored this most famous of Handke's plays in the 1990's with students at World College West, with the idea to stage it in a luxury automobile agency on Van Ness Auto Row in San Francisco, with its historic, elegant showroom, grand curved staircase, and air of old money—themes appropriate to this story about class, ownership and lost time.
Later plans to stage at Barber Mahal Revisited were interrupted by COVID-19 just ten days before opening in March 2020, with two other postponements to follow. Like the rider in a blinding snowstorm who is unaware of the danger of crossing the frozen Lake Constance, we were a bit oblivious to the impending danger and long-term consequences of the Pandemic.
Happily, we have now reached the other side with what we hope is a splendid production, with the original long imagined pair of Rajkumar Pudasain as Jannings and Aashant Sharma as George restored, and only one slip-up of our leading lady, now on crutches. All the other cast is new because changed plans happened for others too. Like George says, "You can turn around: everyone is alive."
So, we hope you can sit back and enjoy this story from a winter's night that is at once wildly entertaining, hair-raisingly silly and profound.
Deborah Merola
ABOUT THE PLAYWRIGHT
Peter Handke is an Austrian-born author who is considered one of the most influential and original German-language writers in the second half of the 20th century. He was awarded the 2019 Nobel Prize for Literature "for an influential work that with linguistic ingenuity has explored the periphery and the specificity of human experience." Handke is best known for his Avant Garde plays Offending the Audience and Kaspar, novels that focus on characters in extreme states of mind, e.g., The Goalie's Anxiety at the Penalty Kick, and the poignant novella A Sorrow Beyond Dreams, prompted by his mother's suicide. He collaborated with director Wim Wenders, leading to the magnificent screenplay for Wings of Desire.
---
ACTORS (In order of appearance)
EMIL JANNINGS: Rajkumar Pudasaini
THE WOMAN WITH WHITE SCARF & DIETRICH KESSLER: Saroj Aryal
HEINRICH GEORGE: Aashant Sharma
ELISABETH BERGNER: Kavita Srinivasan
ERIC VON STROHEIM: Bijay Tamrakar
HENNY PORTEN: Ranjana Bhattarai
ALICE KESSLER / SET CO-ORDINATOR: Sandeep Dangol
PRODUCTION GROUP
DIRECTOR: Deborah Merola
SCENOGRAPHER: Nina Taylor
PRODUCTION MANAGER / STAGE MANAGER: Vijaya Karki
TECHNICAL PRODUCTION MANAGER: Rajkumar Pudasaini
ASSISTANT STAGE MANAGER / POSTERING / RUNNER : Abhishekh Sharma
LIGHTING DESIGNER / OPERATOR: Ingi Hopo Koinch Sunuwar
MUSIC/SOUND DESIGNER/OPERATOR: Satish Prasain
WOMEN'S COSTUME DESIGNER: Sudeshna Maharjan
MEN'S COSTUME DESIGNER: Pashupati Rai
PROPS MAKER: Suryaman Limbu
MAKEUP & HAIR ARTIST: Binu Shahi
PAINTER / SET DESIGNER: Subash Tamang
SET CONSTRUCTION: Hum B.C.
PROPS COLLECTOR/ RUNNER: Surabhi Sapkota
POSTER & PROGRAM DESIGNER: Siddhanta Pudasaini
STAGE HANDS: Sadin Luitel, Rajesh
ACCOUNTS: Amrit Dahal
PHOTOGRAPHY / VIDEOGRAPHY: Jyoti Simha
WITH GRATITUDE…
FOR THEIR UNWAVERING SUPPORT
Chuck Greene, Marin Community Foundation
Nicholas Thaw, International Music and Art Foundation
David Kleiman, who faithfully stands behind each One World Theatre production
FOR KEPT COMMITMENTS: Aashant Sharma, Satish Prasai
FOR HELPFUL GUIDANCE: Sandeep Dangol
FOR LENDING US:
Mandala Theater-Nepal-- a couch, chest of drawers, and vase
Himalayan Java, Jhamsikhel -- the old fashioned victrola and telephone
grill me—the statues of the golden swan and white rabbit
Ashok Rajbhandar -the use of their wheelchair
TO THE ORIGINAL CAST & CREW WHO FIRST IMAGINED THE RIDE: Salman Gurung, Divya Dev Pant, Aashant Sharma, Srijana Regmi, Alizé Biannic, Shulakchhyan Bharati, Amrit Dahal, Amal Dahal, Shuby Bhattarai
OWT's Producers' Circle
Alliance Francaise Kathmandu
Kathmandu Model College
Nepali Army Cavalry Office
German Embassy in Kathmandu
Sudeshna's Boutique
Mala Arts Academy
Akankshya GC
---