Tribute to Hemanta
---
Published on May 31, 2020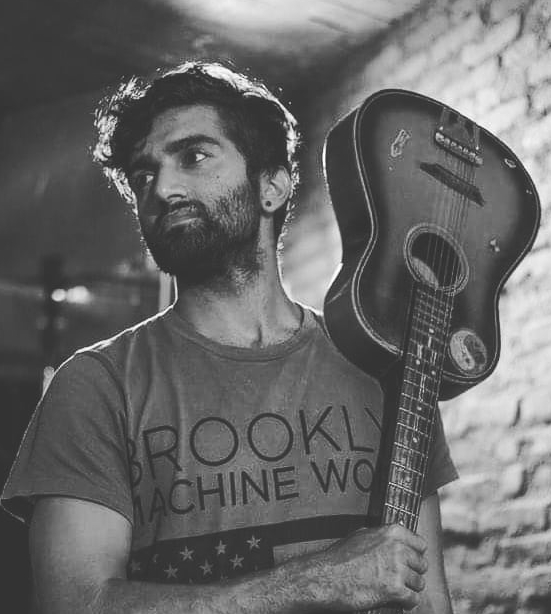 One year ago, we lost one of our dearest members of One World Theatre, Hemanta Chalise. The following is a tribute to him by Rachel Julia Moles.
Hemanta Chalise, who has died suddenly at the age of 30, was just coming into his own as an actor. His most recent major stage performance is generally agreed to have been his best.
His acting career began in 2014 when he first joined One World Theatre. Over the next five years he would perform regularly on stage in Kathmandu and on tour in Nepal and India, most often in English language productions. Director Bruno Deceukelier described him as "one of the finest and most dedicated actors I have ever had the pleasure of working with."
Deborah Merola, the Founding Director of One World Theatre (hereafter OWT), disclosed that Hemanta's promise was not immediately evident when he joined the company for their 2014 production of Anton Chekhov's The Seagull. There was a stiffness to his movement back then, and a thickness to his elocution. But, over the years, he became a OWT stalwart, and through his own commitment and conscientiousness he engineered an evolution in aptitude that many found remarkable.
Untrained as an actor, he learned his stagecraft on the job, initially though minor and ensemble roles in such varied productions as the 2014 staging of Tarell Alvin McCraney's In the Red and Brown Water, where a Nepali cast played Afro-American characters; the 2015 production of Moisés Kaufman's The Laramie Project, which examines the aftermath of the murder in 1998 of gay student Matthew Shepard; and a 2017 adaptation of The Diary of Anne Frank.
Throughout this period, Hemanta's backstage contributions were as much appreciated as his on-stage performances. There was no task too great or too small, and his enviable physical strength would be well deployed in putting together a set. Having originally qualified as an accountant, he initially supported OWT with their book-keeping too. He gradually acquired additional skills and responsibilities and most recently served as Production Manager for a production of Mahesh Dattani's Brief Candle, directed by Rose Bettina Schweitz. He was a consummate team player, and friends and colleagues recall his exceptional generosity, gallantry and thoughtfulness. He was always delighted to contribute to bringing his friends' visions to fruition.
Hemanta's first opportunity to take on a main acting role came with OWT's 2016 production of Anna in the Tropics, Nilo Cruz's Pulitzer Prize winning play, in which he played the challenging part of Cheché. According to his friends it was Hemanta's favourite role, and in an interview with Avenues Khabar only last month he identified Anna as OWT's best received play.
In 2016, he was a key member of the ensemble cast of fusion opera Arjuna's Dilemma, performed outdoors against the evocative backdrop of Patan Museum. Although he seems to have regarded himself as lacking spontaneity as an actor, director Deborah Merola here discovered in him a talent for improvisation. He played Siggie in 2017's Golden Boy, for which he was praised by The Kathmandu Post's reviewer Kurchi Dasgupta for a "believable and virile" performance. Deborah Merola says she was struck by the comic flair that he revealed. In 2018, he played a lawyer for the prosecution in Gross Indecency: The Three Trials of Oscar Wilde, his second Moisés Kaufman play, in which his performance was marked by poise and presence. Director Bruno Deceukelier praised his precision and subtlety as an actor, and was impressed by the lengths he would go to explore the character he was playing.
While OWT was the only company with which Hemanta was consistently associated, he also appeared in other productions, including Alizé Biannic's lavish dance-drama Café de Flore and Aashutosh Sharma's Hamlet?, a wacky spoof that bombarded the audience with pop culture references of varying degrees of obscurity. Regardless of genre or his own level of comfort, Hemanta always acquitted himself with total commitment. For Hamlet?, a friend recalled that he'd stolen a tip from Marlon Brandon and stuffed his cheeks with cotton wool to better differentiate one of his two characters from the other. Hemanta also performed in two Nepali language productions, Jeevan Chalirahanchha and Nepali Aama, which were both directed by his long-standing colleague and close friend Rajkumar Pudasaini.
It is for his appearance in Fuzz Factory's 2016 music video of Sajjan Raj Vaidya's Hawaijahaj that Hemanta is most widely known in Nepal. Viewed now in retrospect, it comes across as almost unbearably prescient. The video broke new ground at the time by blending live action with animation. Anchored by Hemanta's unpretentious and compelling performance, it is quietly moving and lingers long in the mind. It does not hurt that he is so very beautiful.
His other notable on-screen appearances are in the second season of Singha Durbar, in which he joined the main cast as a Press Advisor whose homosexuality becomes public knowledge; and in P.S. Zindagi, Nepal's first online sitcom, for which he also served as Art Director, Production Manager, and a member of the core creative team.
Hemanta's most accomplished stage performance came with Three Sisters, staged in 2018 and reprised in 2019. He was perfectly cast as the gauche but endlessly forgiving Kulygin. Under Rose Bettina Schweitz's direction, Hemanta imbued Kulygin with profoundly moving humanity. Here too, he was also very funny. It was a performance that showed how far he'd come as an actor, and hinted at where he could yet have gone.
And yet, Hemanta had already indicated that this would be his final performance. He'd commented upon the circularity of having begun and concluded his stage career with Chekhov. As is common to almost all actors, he often questioned what he was doing with his life. It is difficult for anyone to make a sustainable career in the arts, and he talked of returning home to Chitwan, starting a business, getting married.
Hemanta was never complacent. He was endlessly self-deprecating and self-critical as an actor, and it was this that drove his exhaustive approach to preparation. He was rarely satisfied with praise and would probe for criticism so that he might further develop. His standards were exacting. Friends recall that Hemanta amassed facts with the comprehensiveness of an encyclopaedia, which made him a formidable opponent in debate on matters political, philosophical, religious or literary. He was a voracious reader, rarely spotted without a book in hand. He had an analytical mind and a courageous intellectual curiosity which led him never to accept without reflection a received opinion. Instead, his integrity was such that he would consider and sometimes defend controversial views, always in pursuit of accuracy and truth. His friends valued his distinctive observations.
It is an understatement that shows the limits of prose to say that Hemanta Chalise will be solely missed.
Rachel Julia Moles
Originally written in early June 2019